One Supplement.
Endless Benefits.
LIMITED TIME – 25% off our newest products!
Use code NEW25 at checkout.
Horse Supplements
Ultimate all-in-one daily supplements for horses of all age levels and abilities
Shop Horse Supplements
Dog Supplements
Multi-purpose, natural supplements for all ages and breeds of dogs.
Shop Dog Supplements
Swine Supplements
Multi-purpose, natural supplement formulated for show swine.
Shop Swine Supplements
Arnall's Promise
Arnall's Naturals™ are well-respected supplements that are Made in the USA. To help you get your desired results, we promise personalized customer service, including individual consultations.
What Our Arnall's Athletes Say
★★★★★

"Total took the inflammation out of their joints, relaxed the tendons right away. It took the pain out their legs and I saw those colts start to flourish, gain weight faster and continue to grow without any issue."

Dewey Smith

Dewey Smith Quarter Horses
★★★★★

"During show season, about the week before we leave, I double up on Total Plus and keep it up through the competition. When we return, we go back down to a regular dose. I think it just really helps to maintain that kind of gut health and all of the internal health benefits that the product promotes."

Emilie Mudd

Area V/VIII Professional Equestrian
★★★★★

"Since having Cadillac on the Total Plus formula, I've noticed a difference in his fitness, recovery time, focus, and overall nutrition. The Total Plus formula has kept Cadillac looking and feeling his best during long hauls to events all over the United States."

Ashley Hayes

Advanced Level Event Rider
★★★★★

"X-rays revealed that my Mare had 2 cracks in her left front coffin bone, one in her joint and had fractured her outer joint. I started double dosing her with Arnall's Mare Care in July. By the end of October, the crack was no longer visible on X-Rays. The coffin bone had healed and she was sound!"

Robert Smith

Professional Horseman
★★★★★

"This is the second horse I've had on Arnall's Naturals Total Plus. I love this product because for my discipline, I need a good joint supplement and the bonus is that it's also a great multi vitamin for my Dez. His overall body and coat look amazing and it's prolonging time between injections."

Jamie Radebaugh

AQHYA World Champion
★★★★★

"Arnall's Naturals provides my horses the nutrients they need to stay fit, healthy, and happy. I have seen incredible results in their coat and performance since they have been on Total Plus."

Samantha McCleery

Professional Show Jumper
★★★★★

"Using the Arnall's Total Plus for 6 months, my horses experienced mental, physical, and competitive improvements. Two of my top competition horses with severe injuries had notably improved recovery time."

Candace Pratt

World Champion & IGRA Hall of Fame
Arnall's Naturals™ all-in-one supplements for horses, dogs and swine are a safe alternative to costly healing methods, helping the body to heal naturally from the inside out. As a daily maintenance product, they reduce inflammation, increase circulation and enhance immune support which can lead to greater joint mobility, fewer injuries and gut issues, a healthier coat and an overall calmer animal.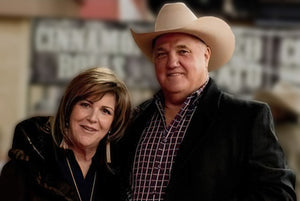 Who We Are
We're passionate animal owners. John grew up in the Australian Outback, where veterinary services were hard to find. Horse owners and trainers waited for weeks until their horses were able to receive proper care. So he decided to do something about it.
Read More